Professional Engineers Dedicated to Designing Lasting, Durable Structures for Your Projects.
You need a team that understands all state regulations, industry standards, and best practices for successful outcomes. But you also want cost-effective solutions tailored to your project's exact specifications.
Our passionate PE-certified professionals are highly experienced and well-equipped to handle any ambitious project with ease. We guarantee cost-effective designs that adhere to all state specifications so you can focus more on the success of your project.
Earth Retention Design Services
We have an experienced team ready to handle even the most challenging projects.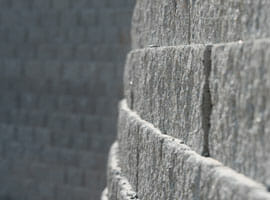 Segmental Retaining Walls
Segmental Retaining Walls provide an efficient and attractive way to address challenging grade discrepancies. By combining strength, durability, and style into one, this easy-to-install solution is a great choice for many landscaping designs.
Reinforced Soil Slopes
Reinforced Soil Slopes are an economical way to create retaining walls when the structure requires a larger area. With space not being sacrificed, these slopes provide all of the stability and strength that you'd expect from traditional methods.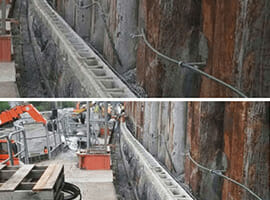 Sheet Pile Walls
Sheet Pile Walls are a fantastic option for projects in restricted spaces. They offer the advantage of being able to be built within existing the excavation, saving you time and space!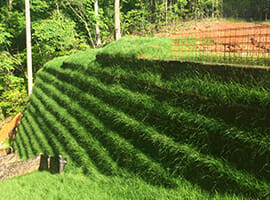 MSE Wire Walls
MSE Wire Walls provide versatile solutions for a range of projects, from strengthening roadways to restoring shorelines. When planted with vegetation, these walls can make an attractive and eco-friendly addition to any landscape.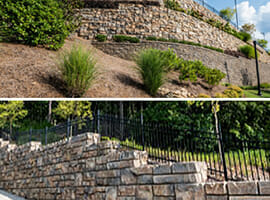 Big Block Walls
Big Block Walls are an ideal solution for achieving both a beautiful aesthetic and structural efficiency in areas with minimal space. With its speedy installation capabilities, this type of wall can be up to 15'0″ tall quickly – no need for geogrid!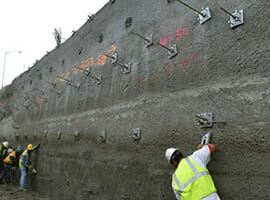 Soil Anchors
Soil Anchors are a must-have for stabilizing or increasing soil-bearing capacity, as well as replacing MSE form walls that have given way. With an anchor plate connection feature, these anchors make restoring foundation strength simple and safe.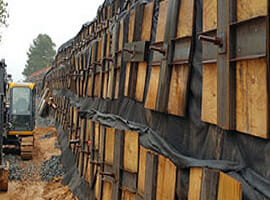 Helical Anchors
Helical Anchors provide an effective, unobtrusive solution for foundation and retaining wall support – preserving surrounding areas while offering reliable stability.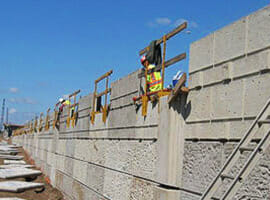 Cast-In-Place Walls
Create a blend of beauty and strength with cast-in-place walls or natural stone/boulder walls – the perfect way to harmonize your reinforced hillside landscape for an eye-catching display.
Sound Walls
Sound Walls are an effective way to help protect local communities from the disruptive noise of nearby roadways, retail outlets and industrial sites. Enjoy a quieter residential experience with this highly efficient sound barrier solution.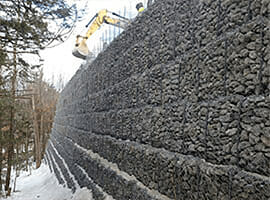 Gabion Walls
Gabion Walls are a unique and stylish way to retain water in ponds, streams, or hard-to-reach construction areas. Comprised of individual rock-filled baskets that fit together like pieces of an evergreen puzzle, these walls provide both aesthetic beauty as well as engineering excellence for your outdoor project!
Find the Right Professionals and Resources to Make Your Project Easier!
We have set the standard for civil engineering designs with wall systems, earth retention solutions and geotechnical applications. With our experienced professionals and cost-effective design services you can trust that your project will be optimally designed and compliant with all state regulations for a successful outcome.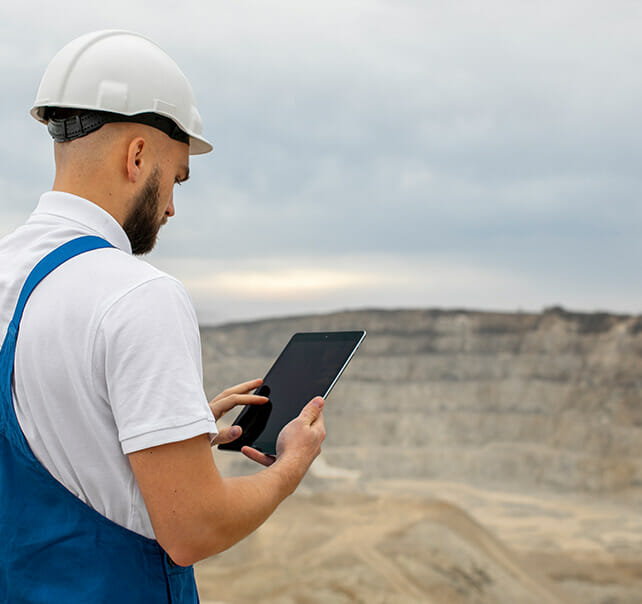 Unrivaled Earth Retention Designs. Get Your Project Completed On Time & On Budget!
When you're moving earth, there is no such thing as a small project. The responsibility to get it right can be overwhelming, but it doesn't have to be. There are two ways to go about it. The first is to try and handle the project yourself, which requires a lot of time, energy, and resources. The second is to entrust your project to us and let our team take care of it. With Earth Retention, you can trust that every aspect of your project's design will be taken into account – from conception to construction to completion.
7 Biggest MSE Retaining Wall Mistakes & How To Avoid Them
To help you avoid painful and costly mistakes, we've created this PDF.